A Sparkling Tangerine Gin Fizz Cocktail
This is a sponsored post written by me on behalf of Sparkling Ice Essence Of for IZEA. All opinions are 100% mine.
I love sparkly things. Especially in cocktails.
And you know who else happen to love sparkly things? Chickens. It's actually kind of a problem when you're just trying to enjoy a quiet happy hour in the garden and they are hunting your cocktail ingredients with the precisely choreographed teamwork of a pack of Velociraptors.
I realize that drinking with chickens is a rather…unique pastime. But I relish the look on peoples' faces when I try to explain it to them (for a visual reference, 'the look' is usually something along the lines of the chicken's face in the previous photo). And given the choice, I'd spend all my cocktail hours under the party lights in my little garden, fresh cocktail in hand, flock of judgey, garnish-stealing chickens underfoot. It's definitely different, and that's what I love about it.
While I try to grow as many cocktail ingredients as possible in my garden, the reality is that I can't actually grow every single ingredient. Like: alcohol, for instance. Although I really should try that. So I am always on the lookout for interesting, healthy additions to my recipes; things that will complement the freshness without detracting from it with lots of flashy fake colors and flavors. So I was beyond excited to stumble across Sparkling Ice's Essence Of line of sparkling waters. With just a hint of flavor and the perfect amount of fizz, they make for a completely refreshing ingredient. The fun flirtiness of these waters perfectly mirrors my outside-the-box happy hour attitude. Even better? They have zero calories and no artificial flavors or colors.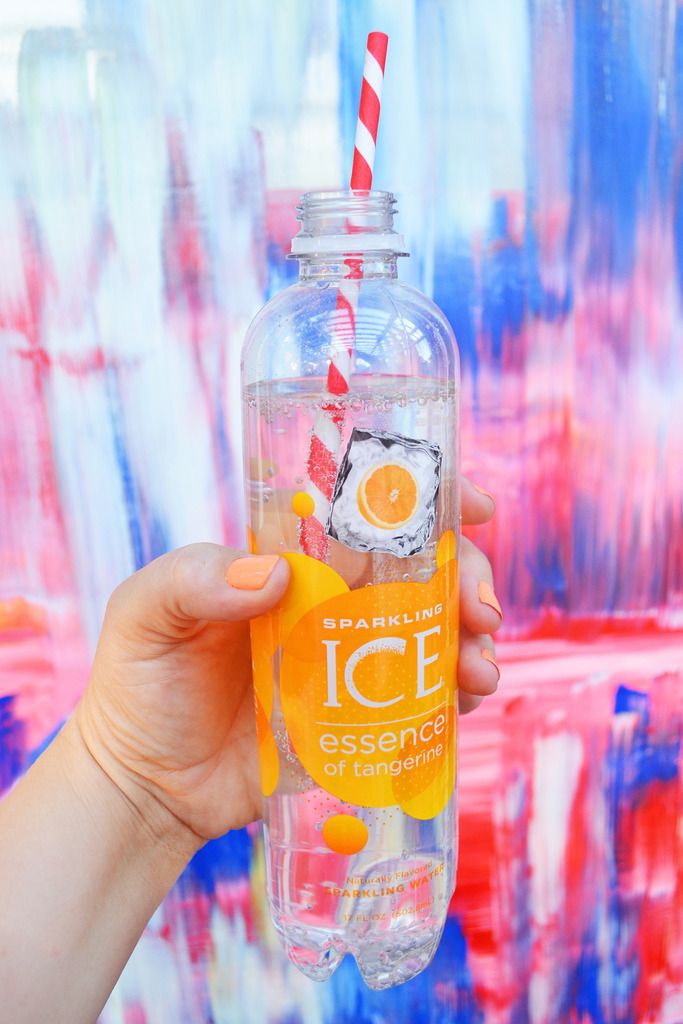 Essence of
Tangerine
was calling my name, and I knew immediately I wanted to use that flirt of flavor for a tangerine-based spin on the traditional Ramos Gin Fizz cocktail. Garden-grown citrus? Ok, yes. Fresh egg whites? Definitely.
Flirt with the flavor of Sparkling Ice Essence Of
? YES. PLEASE.
Let's make a Sparkling Tangerine Gin Fizz!
Cocktail ingredients:
2 oz. gin
4 drops orange blossom water
1 fresh egg white
1/2 oz heavy cream
1/2 oz fresh tangerine juice
1/2 oz fresh lemon juice
1/2 oz simple syrup
1/2 cup ice cubes
1 oz Sparkling Ice Essence of Tangerine
Garnish ingredients:
1 tbs coarse sugar
1 tbs tangerine zest
a few pieces star-shaped tangerine peel confetti
Start by zesting the peel of about half a tangerine, approximately 1 tablespoon's worth. Add the zest and 1 tablespoon of coarse, granulated sugar to a food processor and pulse to combine. Spread sugar mixture in a thin layer on a small plate. Run a wedge of tangerine around the rim of your cocktail glass and roll the rim in the sugar mixture to coat.
Next, using a small star-shaped pastry cutter, cut a few bits of star confetti from the flattened peel of a tangerine. Set aside.
To make your drink, combine all non-garnish ingredients, except sparkling water and egg white, in a cocktail shaker and shake thoroughly until chilled. Strain mixture into a standby mixing glass, dump ice from cocktail shaker, transfer cocktail mixture back into shaker, and add the egg white. Shake hard and thoroughly to foam the egg white well. Strain mixture into your sugar and zest-rimmed cocktail glass. Add sparkling water to the empty cocktail shaker to loosen any additional egg foam and then pour the foam and sparkling water mixture into the top of the cocktail. Garnish with several tangerine peel star confetti scattered across the top of the cocktail foam.
Best enjoyed in the company of chickens (as long as you vigilantly guard your garnish).